Bay Fishing in Rockport, Texas
Captain Phillip Durst
For Reservations or Questions
Please Contact Phillip at 361-790-7285 Or 361-441-4401 (cell)
Book Your Trip Today!
Captain Phillip Durst, born and raised in the Woodsboro, Texas area has enjoyed fishing in and around the local bays and lakes all his life -- from a youngster riding his bike carrying fish on his handlebars, to becoming one of the best professional fishing guides in the Rockport/Coastal Bend area since 1998 (USCG Licensed).
Captain Phillip Durst enjoys all types of saltwater fishing, whether it's fishing the flats or wading the shorelines using live bait or artificial lures.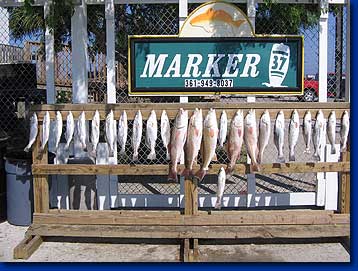 Captain Phillip Durst offers day fishing trips which include equipment, tackle, bait, cleaning and bagging of fish...plus loads of fun. The only thing the fisherman (or woman) has to remember is to bring fishing license, sunscreen, camera, ice chest/ice, eats & drinks and be ready to catch the big one!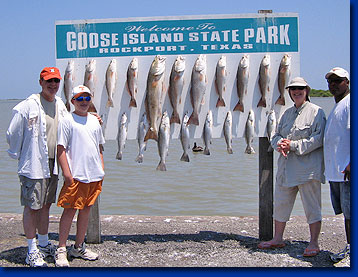 Children are Always Welcome!

TESTIMONIALS
How do you describe Philip Durst? THE BEST FISHING GUIDE ON THE COAST is a great start.
My wife, Barbara and I have been using Philip as a guide for several years now. We have not only always caught fish with him, but he has become a true friend.
We have fished with him when the other guides have come in with three or four fish and we have our limit. He works for his clients, and all the people we have referred him to have been extremely happy.
Barbara has recently had to have her colon removed and will be recovering for quite a long time. What is helping speed up that recovery is my promise that, as soon as she is able, we will be going fishing with Philip.
PHILIP IS TRULY THE BEST FISHING GUIDE ON THE COAST!!
Gary N.
Mesquite, TX
I really hesitate to give this testimonial because I am selfish. I want Philip all to myself, and if you learn how good he is you will book him to fish on the dates when I want to use his Service which is often. But my "good angel" says to tell the truth. Philip is a great fisherman and friend. He works hard and catches fish, lots of fish. Some guides fish only for one type of fish. Philip will catch anything that takes a hook that you want to fish for. When we come back to the dock, 4 times out of 5 we have more total fish than any other group who are there cleaning fish.
Dr. W.R. Hudson
Austin, TX
Having fished and hunted for more than 35 years, I could never imagined the day I had on the bay with Phillip Durst. He let me do as little or as much as I wanted, from baiting to hooking the fish. And when he smiled and said "GET READY", I knew I was going to catch another big Red or trout. With my pictures and memories, I can honestly say I will pass that day down as one of the best outdoor experiences of my life. Thanks Phillip!!
Daniel B.
Rockport, TX
Phillip has always taken care of me and my clients and always put us on the fish. He is also entertaining and a great teacher which is important when you are with kids, friends, and clients. He also taught my wife the meaning of "Ya fishing on credit?"
I consider Phillip a friend and recommend him highly.
Joe R.
San Antonio, TX
I never fished until meeting Phillip over 3 years ago and he definitely has me "hooked." I believe I get as excited about fishing as "the guys" do! I even have my first fish that I caught mounted on the living room wall. Now I ask him to take me fishing at least 2-3 times per month - and he does!
Debbie Durst
Rockport, TX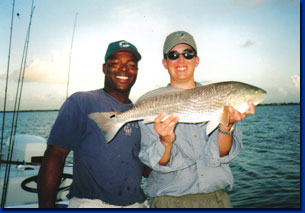 FISHING TRIP RATES
SPRING/SUMMER FISHING RATES
1-3 Persons $600 Full Day
Each add'l person $100
(Includes Bait, Tackle, Equipment)

**$100 deposit required at time of booking; nonrefundable unless notified prior to 48 hrs of scheduled trip and Captain is able to rebook trip. Captain has the right to cancel trip due to bad weather, boat failure, etc. and deposit will be fully refunded or trip rescheduled.
For a Lifetime of Fishing Memories,
Contact Captain Phillip Today!
Just One More Guide Service
Captain Phillip Durst
Rockport, Texas

361-790-7285 (home)

361-441-4401 (cell)